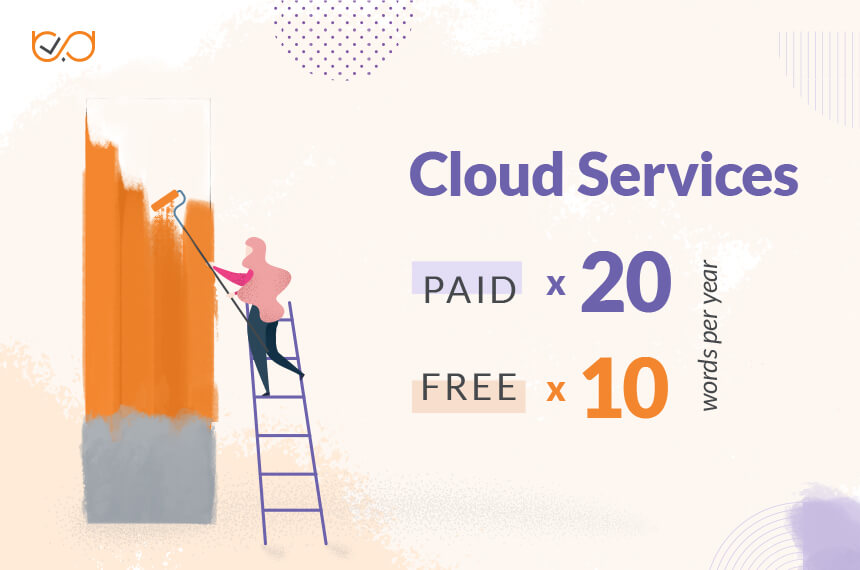 Today we'd like to unveil upcoming changes for our Cloud Services.
Effective date October 30, 2019, with the Cloud release 5.5.4 we plan to introduce a new approach to processing grammar and spell check requests. This update does not imply any pricing changes or require additional actions for our clients.
We are switching to per-sentence proofreading rather than meaningless per-word check. This is going to replace our current service usage calculating the total number of words, which were processed, no matter their correctness level. Consequently, this will lead to an increase of the number of words processed compared with the former approach. Our thorough testing proved an average increase by 15 times in the amount of text processed by our servers.
One of the main reasons for that is moving towards smarter and more effective natural language processing and implementation of AI. The new mechanism has proven its performance effectiveness and will help us to ensure the highest quality of text proofreading and further introduction of cutting-edge technologies.
To sum up, all our existing package-based pricing options are to be increased by 20 times in terms of given amount of processed text per year. Daily limits for the free services will be extended by 5 times.
Paid Services (20-fold Increase)
| | | |
| --- | --- | --- |
| Cloud Paid Plans | Words, year | Updated words, year |
| Basic | 20M | 400M |
| Plus | 50M | 1B |
| Custom | Over 50M | Over 1B |
| Pro version of WProofreader plugin for WordPress | 10M | 200M |
Free Services (5-fold Increase)
| | | |
| --- | --- | --- |
| Free Product Plans | Words, day | Updated words, day |
| SCAYT/WSC Dialog plugins for CKEditor 4 | 10K | 50K |
| WProofreader plugin for WordPress | 5K | 25K |
If you have any questions about the usage limits, please reach us at support@webspellchecker.net. Our team will be happy to help and provide you with the additional information.