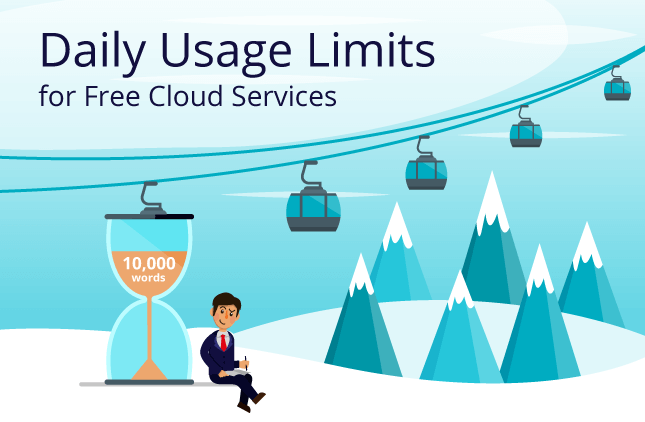 January 14, 2019
With this post we're writing to inform you about important changes related to use of the Free version of SCAYT/WSC services provided as plugins for CKEditor 4 and less.
We've always wanted that all our customers and users could enjoy our proofreading services and all the available features, no matter how big or small they are. For quite a long time the Free SCAYT/WSC services have been provided with the full features set and no usage limits in comparison with the Paid version.
However, with the years, the cost of maintenance and support of the free services increased dramatically. Such an approach no longer allows us to invest our time and efforts in improving the service and its quality.
That's why after careful consideration we've decided to introduce daily usage limit per domain/website that is connected and using the Free versions of SCAYT/WSC plugins for CKEditor 4 and less. As for now the daily limit is set to 10,000 words processed during 24 hours from a single domain/website. Once the limit is reached, the spell checking functionality stops until the next day (00:00 UTC-0).
Symptoms
Spell check as you type functionality stopped working all of a sudden, Spell Check Dialog is loading and no results are shown.
If you go to the browser network tab, you can see the next errors:
You have exceeded the daily limit of the words processed that is allowed for the Free version. Contact support@webspellchecker.net for more details.
Or
The request from 'domain' has failed. 'domain' is not in the list of allowed domains for this subscription. Check the list of allowed domains in your subscription management panel.
Solution
If you would like to get rid of daily limits, remove banner ads and access the full functionality, we advise you to consider the migration to the paid services. We have extended the range of pricing plans for Cloud services which are aimed at businesses of different sizes and designed specially to address your needs and requirements.
In case, you prefer to stick with the Free version, you should keep in mind that as soon as you reach the limit of words processed, the service will stop working until the next day.
Our top priority has always been to continually improve our service and be able to maintain its quality. That is why we truly hope for your understanding and support.
Have any questions about the usage limits, please reach us at info@webspellchecker.net.
Our team will be happy to help and provide you with the additional information.