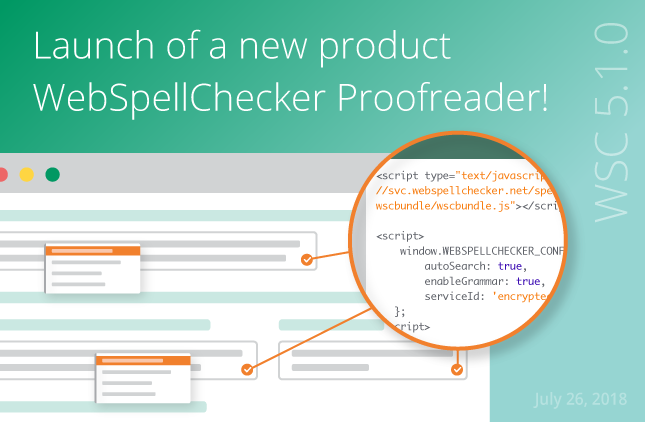 We're excited to share our brand new product WebSpellChecker Proofreader. It aims to simplify the integration and combine the functionality of 'proofread as you type' and 'proofread in a dialog' in a new beautiful UI.
Here's how our products just got more powerful and attractive for use. And what's different in WebSpellChecker Proofreader?
Easy to get started. A single script for all editable fields in a web app;
Auto-search functionality which detects editable fields on a web page and enables proofreading functionality;
Proofread as you type functionality on multiple languages. Spell checking functionality is supported for 16 default languages and 152 additional languages, grammar checking functionality is available for 14 out of 16 default languages.
Simplified box with corrections for spelling and grammar problems.
A new badge button with the WebSpellChecker Proofreader settings.
Supported in all modern browsers such as Chrome, Firefox, Internet Explorer 11+, MS Edge, and Safari.
Are you using the Cloud subscription and eager to try the new product right now? Check out Get Started with Cloud WebSpellChecker Proofreader.
Using the Server solution? Don't worry. Reach us at support@webspellchecker.net to get the latest installation package of WebSpellChecker Server 5.1.0.
We're working hard to roll out even more features and UX/UI improvements in WebSpellChecker Proofreader. To ensure you don't miss out on any of the goodness, check out the Demo of what we're going to ship in our next release. We'll let you know when it's live!
Cheers,
WebSpellChecker Team