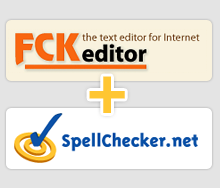 WebSpellChecker is an integrated spell checker in the new 2.6.4 Beta version of the FCKeditor, which was released yesterday on January, 15. Demo is available on the FCKeditor official site. Quote from the release announcement is provided below (full version of the release announcement is available on the FCKeditor site):
"This new version introduces the WebSpellChecker integration, a zero-installation solution for spell checking provided by SpellChecker.net. You will now have a wonderful spell checker running out of the box, requiring no server side installations and configurations."
We are looking forward to the following partnership with FCKeditor. The work on the SpellCheckAsYouType plugin for FCKeditor is in progress.