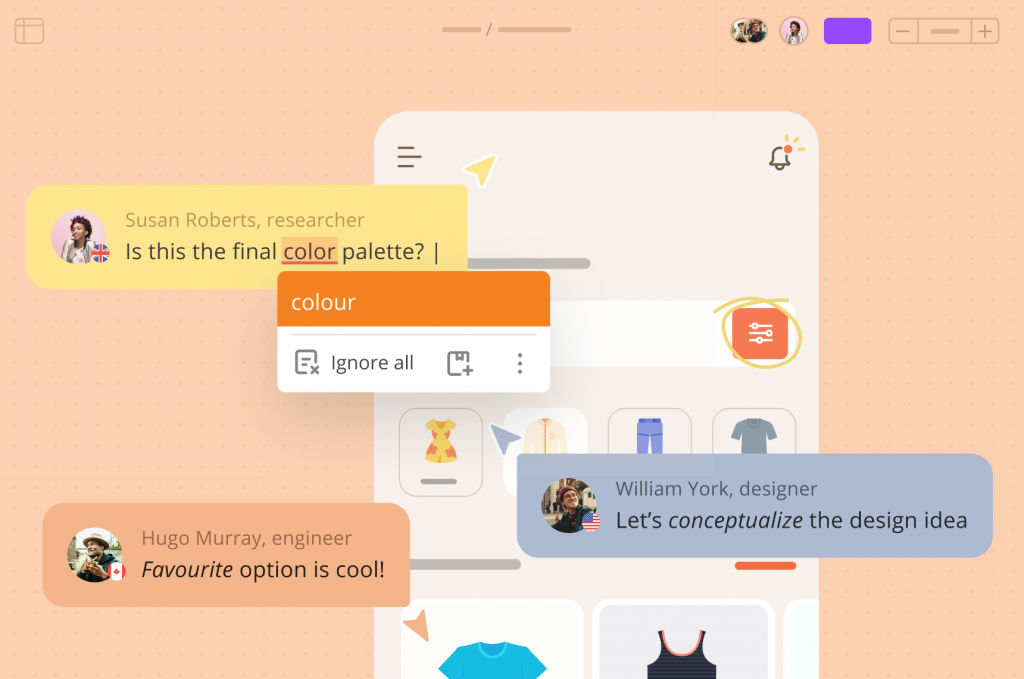 Dear WebSpellChecker clients,
Long time, no news from WebSpellChecker. It may seem that we've slowed down the development pace. But, in fact, no. Although the war creates the most challenging conditions for business here in Ukraine, we have already got WebSpellChecker back on track 😎.
And even beyond — we've developed some exciting features like AI-based English dialects, custom dictionary API, a new version of autocomplete, etc.
Chances are you will fancy them. So, long story short, since March until today WebSpellChecker has been about…
American, British, Canadian, Australian? Take them all.
English dialects have always been inside our dictionary-based engine. It was time for us to add them to AI models.
After deep linguistic research and sophisticated implementation, now English AI is equipped with the support for unique spelling for 4 dialects — American, British, Australian, and Canadian.
No confusion and brain-racking on how to write capitalize or capitalise in any dialect. English AI, enabled by default in your product, definitely knows how.
Besides, we've made a bunch of fixes to improve the output of English AI model.
New autocomplete with smarter suggestions
Autocomplete was designed to quicken your writing. We agree that with one-word suggestions, there may be no apparent change in texting speed.
What about 2-word or even 3-word suggestions? Type "Thanks for", and we'll offer "visiting our website". Our autocomplete feature has become smarter and now suggests longer phrases. To enjoy faster writing, just enable autocomplete suggestions in the settings.
Besides, we've fixed some issues and cut the number of false or erroneous suggestions. Autocomplete improvements are to be continued.
Custom dictionary API
No client request goes to oblivion. We process and record all your feature suggestions and recommendations.
Custom dictionary API was one of such requests. Before, WebSpellChecker clients could create only user dictionaries via API. Now, we've added a custom dictionary API option for the on-premise package. You can create and manage custom dictionaries, add words, filter lists, etc., using API.
Custom dictionary API for Cloud clients is coming soon. Contact us to get the manual.
Ever-developing WProofreader SDK
With every release, we add bells and whistles to WProofreader. This time, we updated the product UI and enhanced the behavior:
small badge with a red/orange status to mark the state of WProofreader
global badge feature to fine-tune WProofreader initialization in several fields on the page
ability to implement and use WProofreader in editors with a restricted editing mode (e.g. CKEditor 5).
Extra improvements for the on-premise version
Demos inside the on-premise package. Check the service work at the preliminary steps right from your installation build. Go to the WebSpellChecker directory and try live demos.
Security fixes. We updated third-party components with public vulnerabilities to eliminate any security risks related to WebSpellChecker products. For holders of standalone (aka on-premise) product packages, we highly recommend upgrading to the current WebSpellChecker version — v5.25.0.
We've implemented support and configuration of NGINX as a default web server, because it's faster and more secure than Apache HTTP Server.
Docker configuration redone. We renewed Docker configuration to deploy WProofreader SDK on-premise package in container environments such as Kubernetes or OpenShift flexibly.
Where is WebSpellChecker now?
We keep working on improving the quality of the proofreading engine, in particular adding the inclusive language rules, and extending the product feature set. The company style guide builder, management and console for the on-premise version are still in our backlog. Stay tuned!
Best regards, WebSpellChecker team