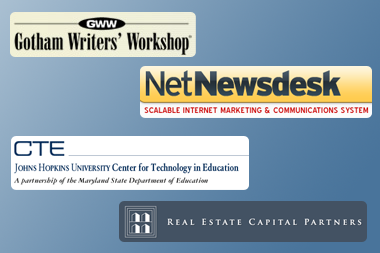 Center for Technology in Education
The Center for Technology in Education strives to improve the quality of life of children and youth, particularly those with special needs, through teaching, research, and leadership in the use of technology. This unique partnership combines the research and teaching resources of The Johns Hopkins University and the leadership and policy support of the Maryland State Department of Education.
Gotham Writers' Workshop
Gotham Writers' Workshop is the leading private creative writing school in New York City and online. Professional writers present workshops in more than a dozen forms of writing. The school's interactive online classes, selected as "Best of the Web" by Forbes, have attracted thousands of aspiring writers from across the United States and more than one hundred countries.
NetNewsdesk.com
NetNewsdesk is right for companies with dedicated marketing personnel who want to take control of their Internet communications, for Advertising / PR / Marketing firms who want to maintain integration with their client's branding efforts; for companies that have used other systems and are tired of the limitations.
Real Estate Capital Partners
Real Estate Capital Partners is a leading U.S. real estate investment advisor offering both high net worth individual and institutional clients opportunities to invest in partnerships with a targeted investment strategy and separate accounts with the goal of creating superior risk-adjusted returns.